It's that time of year again, the Sepang Winter test. beginning on the 28th January, there are eight hours of track action per day over three days. We will update on this post. #SepangTest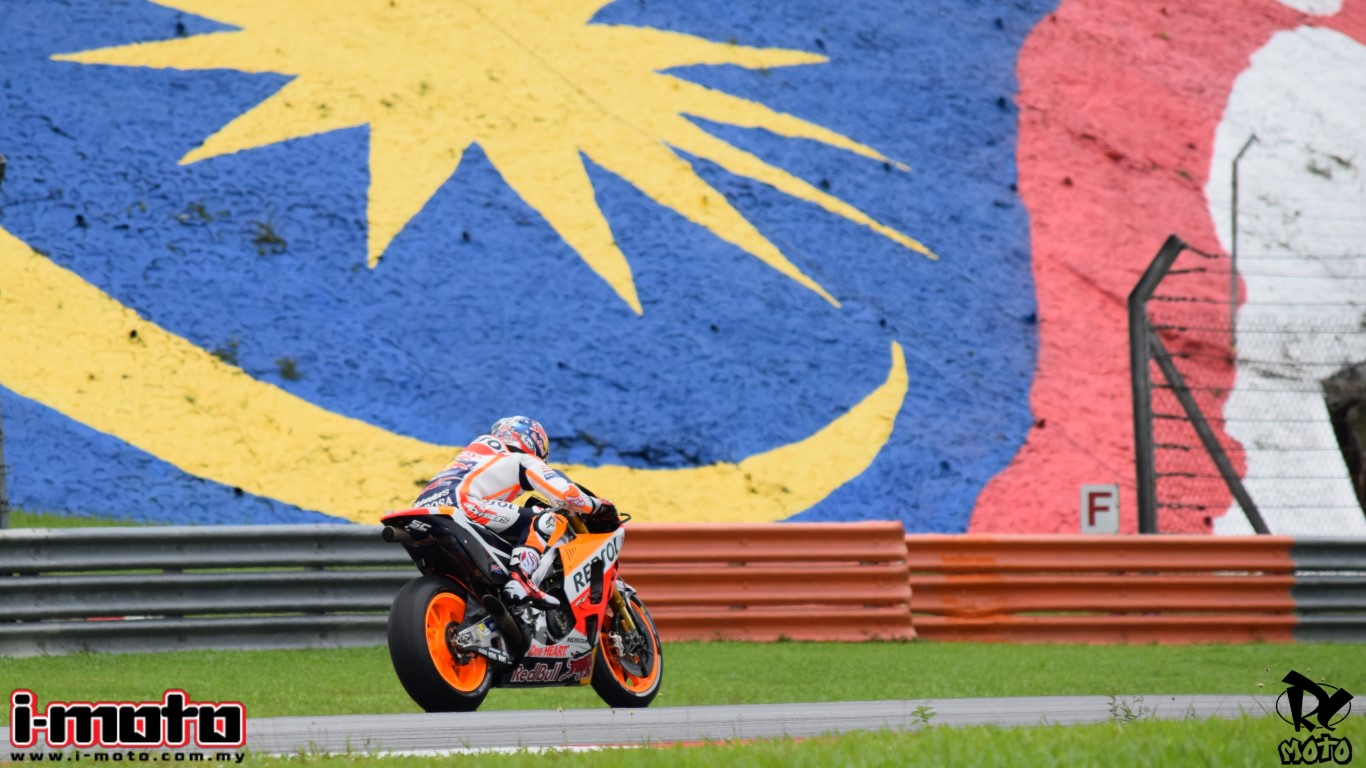 #SepangWinterTest2018 Day One
Dani Pedrosa, Repsol Honda Team rider, set the fastest lap time on the opening day of the 2018 MotoGP pre-season winter test at the Sepang International Circuit (SIC).
The Spaniard, top the timesheet with one lap remain at the 5.41km track to clock one minute and 59.427 seconds in lap 55 of the 56 laps session.
Ducati Team rider Andrea Dovizioso of Italy was just 0.343s behind Pedrosa while his teammate, Jorge Lorenzo, who was the 2015 champion came in third with a time of 1:59.802s.
Italian, Valentino Rossi of Movistar Yamaha MotoGP Team had to settle for sixth place after clocking 2:00.233s. Rossi was topping the afternoon time sheets till last 15 minutes.
Meanwhile, Marc Marques of Repsol Honda Team took seventh place with a time of 2:00.947s.
The pre-season testing continues tomorrow till Tuesday from 10am to 6pm.
Fastest Lap was done in 2015 by Dani Pedrosa 1'59.053.
#SepangWinterTest2018 Day Two
Blazing weather today at Sepang Day Two Winter Test, Movistar Yamaha's duo Maverick Vinales and Valentino Rossi, tops the timesheets on day two, with 10 other riders in the 1:59's in the top 12. Perfect weather today with Rossi heads the morning timesheets then came Dovi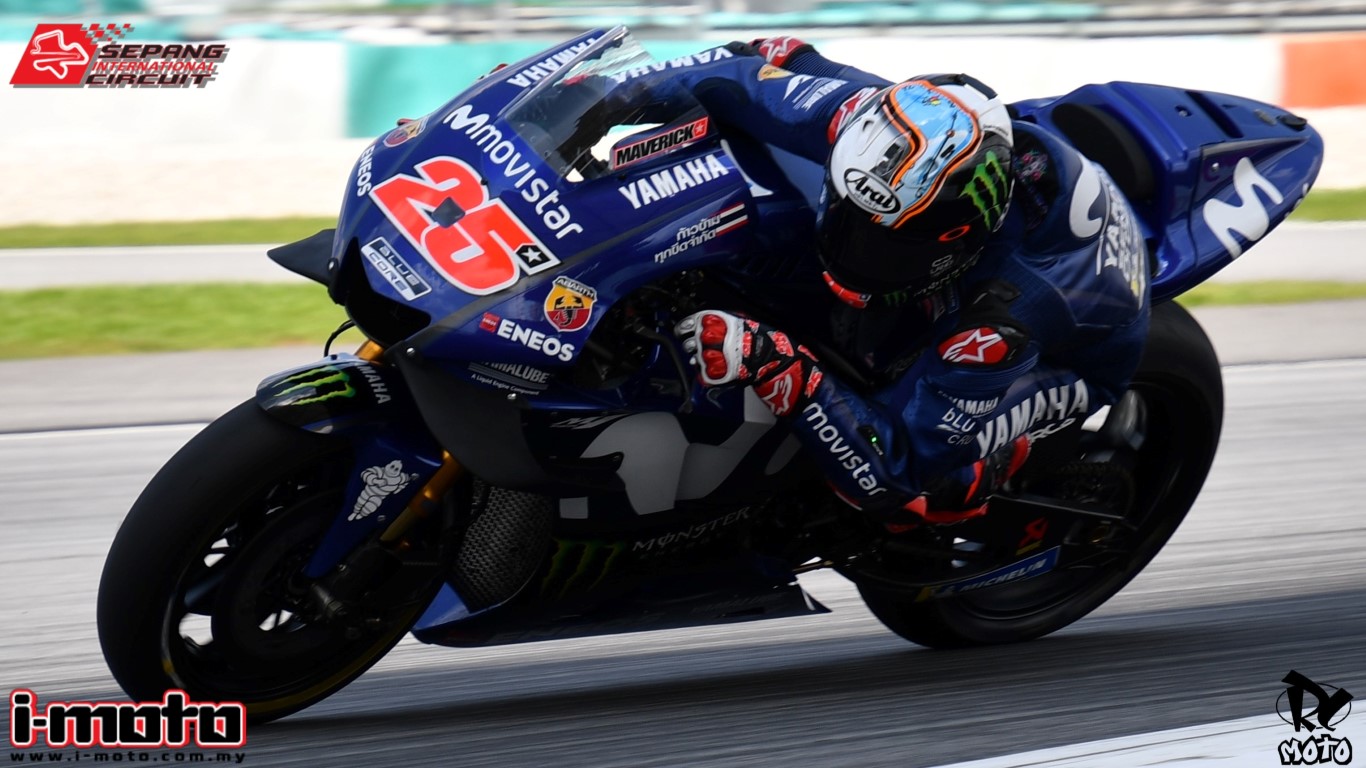 Pos|Rider|Team|Fastest lap|Lead. Gap|Prev. Gap|Laps|Last lap
1 VIÑALES, Maverick|Movistar Yamaha MotoGP|1:59.355|66 / 68
2 ROSSI, Valentino|Movistar Yamaha MotoGP|1:59.390|0.035|0.035|38 / 39
3 CRUTCHLOW, Cal LCR Honda CASTROL 1:59.443 0.088 0.053 56 / 65
4 LORENZO, Jorge Ducati Team 1:59.498 0.143 0.055 37 / 44
5 MILLER, Jack Alma Pramac Racing 1:59.509 0.154 0.011 43 / 44
6 ZARCO, Johann Monster Yamaha Tech 3 1:59.702 0.347 0.193 45 / 48
7 MARQUEZ, Marc Repsol Honda Team 1:59.730 0.375 0.028 51 / 68
8 DOVIZIOSO, Andrea Ducati Team 1:59.732 0.377 0.002 20 / 32
9 PETRUCCI, Danilo Alma Pramac Racing 1:59.747 0.392 0.015 45 / 46
10 IANNONE, Andrea Team SUZUKI ECSTAR 1:59.917 0.562 0.170 56 / 57
11 ESPARGARO, Aleix Aprilia Racing Team Gresini 1:59.925 0.570 0.008 40 / 47
12 PEDROSA, Dani Repsol Honda Team 1:59.999 0.644 0.074 51 / 56
13 RINS, Alex Team SUZUKI ECSTAR 2:00.042 0.687 0.043 25 / 56
14 ESPARGARO, Pol Red Bull KTM Factory Racing 2:00.262 0.907 0.220 7 / 22
15 RABAT, Tito Reale Avintia Racing 2:00.506 1.151 0.244 11 / 48
16 SMITH, Bradley Red Bull KTM Factory Racing 2:00.520 1.165 0.014 37 / 42
17 MORBIDELLI, Franco EG 0,0 Marc VDS 2:00.662 1.307 0.142 35 / 36
18 KALLIO, Mika KTM Test Team 2:00.701 1.346 0.039 44 / 51
19 BAUTISTA, Alvaro Ángel Nieto Team 2:00.728 1.373 0.027 47 / 58
20 ABRAHAM, Karel Ángel Nieto Team 2:00.914 1.559 0.186 50 / 53
21 NAKAGAMI, Takaaki LCR Honda IDEMITSU 2:00.952 1.597 0.038 19 / 51
22 GUINTOLI, Sylvain Suzuki Test Team 2:01.392 2.037 0.440 5 / 46
23 REDDING, Scott Aprilia Racing Team Gresini 2:01.456 2.101 0.064 48 / 51
24 TEST3, Yamaha Yamaha Test Team 2:01.480 2.125 0.024 36 / 37
25 HERNANDEZ, Yonny Monster Yamaha Tech 3 2:01.554 2.199 0.074 43 / 49
26 SIMEON, Xavier Reale Avintia Racing 2:01.689 2.334 0.135 40 / 41
27 LUTHI, Thomas EG 0,0 Marc VDS 2:01.810 2.455 0.121 37 / 47
28 TEST2, Yamaha Yamaha Test Team 2:02.573 3.218 0.763 23 / 33
NC TEST1, Yamaha Yamaha Test Team
NC PIRRO, Michele Ducati Test Team